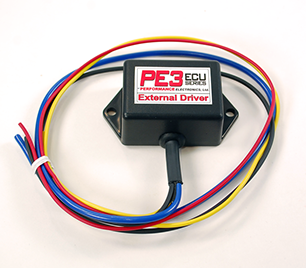 PE3 External High Current Driver
Part Number: 53000000
$99.00
High current external driver for use with the PE3 series ECU. The external driver is controlled by a digital output from the ECU and can be used as on/off switch or pulse width modulated to drive motors and actuators. Max current is 20 amps. The external driver retains over-current protection in the PE3. Data Sheet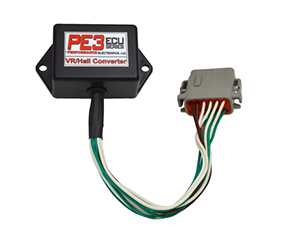 VR to Square Wave Converter
Part Number: 53000001
CALL FOR PRICING
Variable reluctance sensor to square wave converter. Converts the sine wave output of a typical VR sensor to a square wave for the PE3 digital inputs.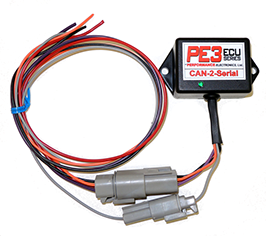 PE3 CAN to Serial Converter
Part Number: 53000002
$188.50
For use with PE3 CAN bus to convert to serial data stream for third party loggers and dashes (STACK Protocol). Includes 18" wire pigtail for serial data and 18" wire pigtail for connection to ECU.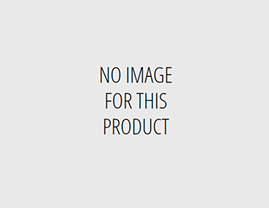 PE3 Breakout Board
Part Number: 53010000
CALL FOR PRICING
PE3 breakout board used for troubleshooting harnesses and installations. Allows access to each of the signals going into and out of the PE3.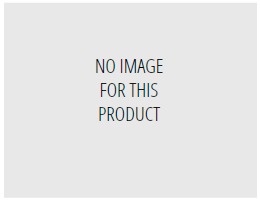 PE3 Simulator Board
Part Number: 53010001
$1475.00
PE3 simulation board. Includes inputs for all analog inputs and simulated outputs.

Crimp Tool
Part Number: 53020000
$399.00
Crimp tool for PE3 connector pins.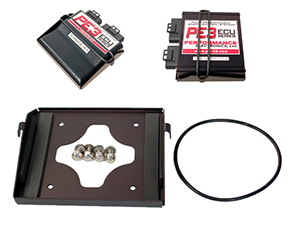 PE3 ECU Mount
Part Number: 53030003
$47.00
PE3 series mount. Sold as shown with hardware. Works with either aluminum or waterproof version of the ECU. The mount is made from anodized aluminum.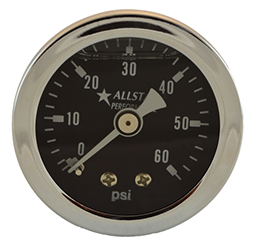 Liquid Filled Pressure Gauge
Part Number: 53050000
$58.00
1.5 inch liquid filled pressure gauge, 0-60 psi.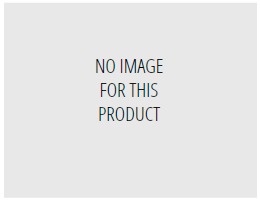 PE3 Labeled Wire
Part Number: 53060000
$.50
Labeled wire for making additional wiring harnesses. Wire is labled with PIN numbers for the ECU. Sold per foot.